Unforgiven
Posted on October 24, 2012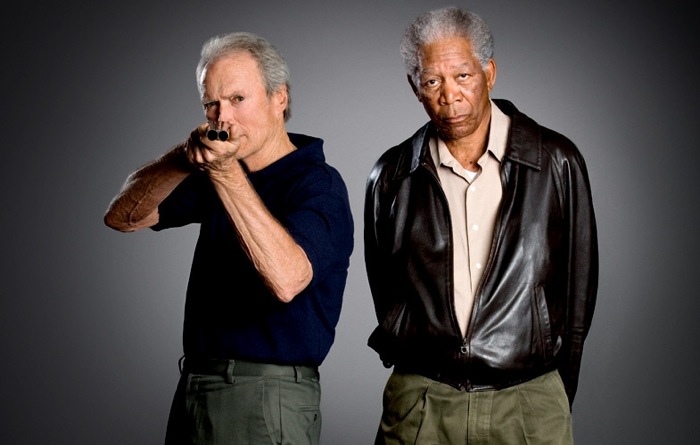 Contains spoilers for Unforgiven and Million Dollar Baby.
In 1992, Clint Eastwood and Morgan Freeman revitalized the Western genre when they starred together in
Unforgiven
. Eastwood was a notorious gun-slinger who desperately wanted to get out of the gun-slinging business. His pal Morgan Freeman joined him in one last adventure to collect reward money from some abused Ladies of the Night. Freeman ends up getting himself killed, and Eastwood takes his revenge on Gene Hackman.
In 2004, Eastwood and Freeman joined together in another Academy Award winning movie,
Million Dollar Baby
.   The real star of this boxing flick is Hillary Swank, a down on her luck waitress who wants to make the big time as a female pugilist.  Eastwood doesn't train girls, and resists her entreaties to take her to the big time.  Freeman, ever the bleeding heart, takes pity and starts training her. Eastwood changes his mind when he sees how good she is, and she ends up in million dollar title bout, where she promptly breaks her neck (after a sucker punch from her opponent).  At her request, Eastwood kills Swank in an act of mercy (or murder, as some folks looked at it).
Eastwood and Freeman seem like natural sidekicks, chiefly because of these two movies, and reportedly, they are good friends.
That is why it is a bit jarring to see them go head to head in the Presidential campaign.
Freeman is the chief narrator of the Obama campaign's closing argument, a campaign ad which makes the case that the President faced incredible challenges when he got into the White House and that the last thing we should do is turn back now. Freeman put his money where his mouth is and also gave the President's campaign a million dollars, baby.
Eastwood endorsed Mitt Romney in August and gave the most memorable (if not controversial) convention speech in history when talked to an empty chair and made believe that Obama was sitting there.
The Academy Award winning Director and Actor now has filmed a new ad on behalf of his favored candidate for American Crossroads.  "Obama's second term would be a rerun of his first and our country just couldn't survive that," Eastwood says. "We need someone who can turn it around fast and that man is Mitt Romney."
There is not much time left and the future of our country is at stake," he concludes.
If you live in Ohio, Pennsylvania, Colorado, Virginia, Florida, and any other state deemed swing, you are going to see a lot of these two ads, as these two former  side-kicks battle it out on the airwaves.
For Mitt Romney, having anybody from Hollywood give his endorsement is huge.  That the endorsement comes from Clint Eastwood, who at the beginning of the year filmed a Chrysler commercial that basically endorsed the auto-bailout, is even huger.
For Obama, his Hollywood support is a dime a dozen. And let's face it.  The fact that Morgan Freeman has thrown in with the President is not exactly news.
Less than two weeks left.  It is going to be interesting to see how this movie ends and which Hollywood icon comes out on top.