Mike Pence
Posted on January 28, 2011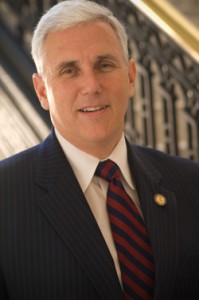 I like the Mike Pence style.
I may not agree completely with all of his politics, but I like his style.
He smiles on camera.  He speaks in complete sentences and thinks deep thoughts.  He is smooth, but not in a creepy way.  He is authentic in his beliefs.
I planned to write about Pence today in hopes that he would run for President.
Conservative leaders have been coalescing around a Pence candidacy, because they believe he was their best shot.
From a conservative standpoint, Pence is the real deal.  He has never, ever been for raising taxes.  He has never veered from the pro-life position.  He didn't vote for the prescription drug expansion (which, in all disclosure, I supported and still support).  He is a hero to the Tea-Party folks.
But Mike doesn't get caught up in personal attacks.  He doesn't make racially-tinged statements.  He is very religious, but he doesn't confuse the job of a preacher with the job of a politician.
I think Pence had the best shot of any House member jumping straight to the White House since Champ Clarke walked into the Democratic convention in 1912 with the most delegates (Clarke was out-maneuvered by Woodrow Wilson at the convention, but was the odds on favorite at the start of it).
Pence is now expected to run to replace Mitch Daniels as Governor of Indiana.  Daniels is one of my top two candidates for President, should he decide to run.  So, in one sense, having Pence decide not to run for President makes my decision about who to support for President less complicated.
But while Pence is stepping off the national stage for a moment, he shouldn't retreat from taking a leadership position in the Republican Party.  He needs to take the reigns of the conservative movement from the pretenders.  Pence is no Sarah Palin or Michelle Bachmann.  He is not easily mocked.  His proposals and ideas are serious and deserve consideration.  His rhetoric is measured and non-incendiary.
Yes, he is conservative, but to borrow Mike Huckabee's line, he isn't angry about it.
I don't agree with everything Mike says or does, and I am probably more libertarian than he is on many things, but I like his style.
It is too bad he isn't running for President.