Capitol Hill Tragedy
Posted on January 12, 2011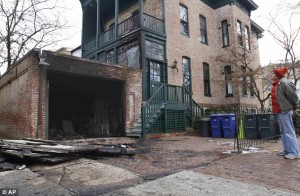 I have lived on and off Capitol Hill now for more than 20 years.
I lived on the Hill in the early 1990's during the bad old days, when the crack wars threatened the lives of many young staffers, and claimed the lives of a couple of kids who were senselessly murdered in botched robbery attempts
When the Marion Barry regime got too corrupt, I moved off the Hill into the relative safety of Virginia, only to return shortly after the 9/1l attacks. I was tired of traffic and I wanted to be closer to my job, which was three glorious blocks away.
I later got married and moved from 3rd Street to 8th Street. A longer commute (by 5 blocks), but actually a better community for raising kids, or in our case, kid. Jack arrived and we got a chance to meet the families that really make up the backbone of the Capitol Hill community.
If you work on the Hill or close to the Hill, it is so darn convenient to raise kids on the Hill, because the commute is about 3 minutes if you drive and about 15 minutes if you walk.
I am sure that was one of the factors that kept Dan and Ashley Turton on the Hill.
Dan and I came to the Hill around the same time in the late 1980's. He worked for the Democratic Leader and I worked for the Republican Leader. Every once in a while we would grab a beer, and we were always very friendly with one another, despite the fact that we sat on separate sides of the political divide.
Dan would later move up in the Gephardt world, running floor operations, while I continued to work for Congressional Republican leaders. He first met his future wife, Ashley, while working for Mr. Gephardt. Eventually, he would move to the House Rules Committee and then when Barack Obama claimed the White House, Dan was a natural choice to become the top lobbyist for the President.
Ashley became the conscience and chief operating officer of the DeLauro Operation. Rosa DeLauro was in charge of the Democratic message team when the Republicans first took control, and she was a constant thorn in the side of the new majority. That was her job and she did it well. She did it especially well when Ashley was in charge of it.
Ashley and Dan got married and then moved to a lovely house on 8th and Northeast, down the block from Carl Hulse, the New York Times reporter. It is a great neighborhood, with lots of families and dogs and kids on bikes.
The Turtons had twin boys and then, being gluttons for punishment, Ashley had a third child. Dan was working ridiculous hours, getting beat up by a variety of Democrats and Republicans, on a variety of issues. That is the nature of being the chief lobbyist for the White House. You get all the grief with none of the pay of outside lobbyists.
Ashley worked more reasonable hours at Progress Energy, but that is not to say she didn't work hard. You could tell the strain on Dan's shoulders when he would take his rambunctious twins to the Eastern Market's little Salvadoran restaurant for breakfast on the weekends. He was tired, but it was his turn to take the kids to breakfast. So that is what he would do.
Ashley, with her soft Carolina accent, always had a smile on her face. We were politically competitive, but you could tell that she loved the game of politics and that she loved what she was doing. She enjoyed immensely being a big part of the DeLauro brain trust.
This past Monday morning, I walked my dog Noodle past the Turton House, as I usually do, and saw a bunch of fire trucks blocking the corner of 8th and A. While all the windows were opened in their house, it looked to me that they had a fire in their garage.
My wife and I had talked about the need to put together a better fire safety plan (that was part of our New Year's planning meeting), so I made a mental note to get cracking on our plan when I saw the fire trucks.
I was running late, so I didn't linger around too long to find out what happened. Since the fire didn't hit the house, I assumed all was okay.
It was only later when I was in a meeting that somebody from my office sent me the terrible news. Ashley had died in the fire.
I don't know what happened or why. Why would God let this happen to a sweet person like Ashley, who had worked so hard and who loved her kids so much?
It defies all reason.
While Congress often gets a bad rap from the American people, the people who populate Capitol Hill are part of a vibrant and caring community. The Turtons have been an important part of that community for many years, and this accident has shaken us all.
The headlines in the local papers inevitably say things like "Car Fire Kills Lobbyist." But that headline doesn't even hint at the whole story. Ashley Turton was much more than a lobbyist (not that there is anything wrong with that). She was a great mother, a smart strategist, an important mentor to many young staff, and just a terrific person. Her untimely death has left a huge hole in our Capitol Hill community.