The Ames Straw Poll
Posted on August 11, 2011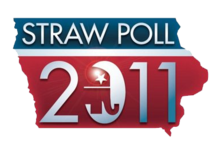 So why are so many political reporters traipsing to Iowa this August?
Well, it must be the Ames Straw poll, a tradition like no other.
The Iowa Republican party plays host to this political beauty contest that has little actual bearing on the actual race for the White House.
Since the straw poll was first started in 1979, it has picked exactly one candidate who went on to become President, George W. Bush.
In fact, since 1980, the Iowa caucus system itself has picked exactly one candidate who went on to become President.
If that is the case, then why should we care what Iowans decide at the Ames Straw poll?
Who cares if Michele Bachmann wins? Who cares if Ron Paul comes in second?
Well, to be candid, we shouldn't care.
Unless, of course, you are Tim Pawlenty. Pawlenty probably needs to do pretty well if we wants to raise enough money to stay in.
But Pawlenty has bigger problems than Ames, Iowa.
Right now, he doesn't look like he will be able to compete long-term even if he was able to convincingly sweep the straw poll.
In the big-scheme of things, this weekend doesn't really matter.
This is pre-season, folks.
The Ames Straw poll is kind of like football's Hall of Fame game.
It doesn't matter, but it is sure fun to check out the players.
Like a pre-season game, the Ames Straw poll gives political fans a chance to check out their favorite players. It gives the candidates a chance to work out the kinks in their playbook. And it gives reporters a chance to create some news.
At the end of the day, what happens this weekend in Iowa is not really that important.
But it is sure fun to watch.